This post was written a while ago (May 2009) and hence the information presented below may have less relevance compared to new practices since the original publish date. Please take this into consideration when reading the information below.
Sunday May 10th 2009
at 12:18 AM
In the past month or so I have wrote three articles/tutorials on various CSS3 elements that the developers of CSS3 have been working on, I've shown you some of my favourite new features such as the border-radius attribute and box-shadow, but I have had to stress on each article that only certain browsers will allow to use CSS3 modules and elements. The main two browsers that have supported CSS3 along it's on going development path are Mozilla Firefox and Safari, both using there own frameworks the moz and webkit.
One browser however, that seems to be shadowed by the rest is Internet Explorer. Some people that read this may already be disgusted by me mentioning the name (Possibly Forbidden in some Web-Dev religions) but I couldn't help but notice, that Internet Explorer 8 seem to be holding back on implementing CSS3, and while that might be due to the fact that CSS3 isn't finished yet, Mozilla Firefox and Safari seemed to have taken up the challenge and thanks to them people are able to see CSS3 in action as it develops.
Recently Internet Explorer 8 hit the scenes, and while it's not my favorite browser to begin with, Windows Update wanted me to update and I wasn't going to say no, after all I may be writing a fairly long post about just browsers, but I don't geek out about them, It's just something I think it's pointless to argue about. However I did geek out when I found that Call Of Duty World at War (It's not COD5!) was being developed by Treyarch rather than Infinity Ward, but thats a different story and possbily constitutes a different blog post altogether. But back to the whole Internet Explorer story.
Internet Explorer 8 is no longer in BETA now, so it's officially been released, and although I don't like it much, I will say that it is much more compliant with W3 Standards than say IE7. Doing a bit of comparision IE8 and Firefox 3 display webpages similar, which probably shows that IE8 has become more complaint with standards, but my point isn't about how the browser functions, or how it displays webpages no. The point that im getting at is how I think Internet Explorer is going (If not already) getting left behind in browser race.
How did I come to that conclusion? I opened my eyes. Microsoft realeases new versions of it's browser every 2-3 years (Roughly) to end any disagreements on this lets say not exactly regularly, yes updates for Internet Explorer x version do appear of Windows Update from time to time, but really these updates are simply bug fixes or patches to fix bugs that have been reported or possible expliots, but really Microsoft don't update Internet Explorer like other browsers like Mozilla Firefox. They don't make revisions and this leads my main point, how can Internet Explorer possibly keep this cycle when CSS3 is in development, okay so CSS3 isn't finished yet, modules and features are still being revised and added, but would it really hurt to start adding some CSS3 support, and I mean the pseudo elements not just the box standard ones.
Im going to use Mozilla Firefox as a example here again, during the whole CSS3 development period, they have been keeping up with the new modules and elements introduced in CSS3, but there not the only ones following the development of CSS3. Apple's browser Safari has also been keeping up and adding in CSS3 support. The latest version Safari Beta 4, as added in alot of new CSS3 stuff, and hence why many websites that are show casing various CSS3 elements (James' Blog) included will note that the effect can be seen in either Mozilla Firefox or Safari. This can also be seen by the use of the webkit and moz attributes that we currently have to use to get the effect. However, soon we will be able to use the attribute without having to declare the moz and webkit. Have I completly lost you? Here's what I mean:
Taking any random CSS3 element lets choose the box-shadow, in order for someone to use the effect and see the result in a CSS3 implemented browser they would have to use this code:

-moz-box-shadow: 15px 15px 0px #999;
-webkit-box-shadow: 15px 15px 0px #999;

The moz declaration is for Mozilla Firefox and the webkit declaration is for Safari. So at the moment for anyone wanting to use CSS3 in a template (Which I wouldn't recommend) they will have to keep declaring both the moz and webkit for them to show up in both browsers which in this case is Mozilla Firefox and Safari. But when CSS3 is fully baked so to speak we will all be able to use the box-shadow element on it's own without declaring the moz or webkit.
But until then anyone writing articles or tuts on various CSS3 stuff will have to use both declarations, which granted makes your stylesheet look messy, but it's temporary.
But Internet Explorer 8 doesn't include any CSS3 elements like box-shadow, so myself and other people wanting to test out some CSS3 can't use Internet Explorer 8 as the test browser. Which really, is a wasted opportunity, Microsoft's whole age issue has been called into question many times, and by that I mean that Microsoft are no longer the budding and exciting generation of a company in the 21st Century anymore, what with Apple and there innovation (No im not a fan boy) Im just saying Microsoft aren't the exciting company they used to be, yet CSS3 is essentially the next generation of website development and Internet Explorer isn't getting on board the train to it. I mean even the less popular (But that doesn't mean there not worth the mention) web browsers such as Opera have CSS3 implementation. Granted not as much as Firefox and Safari, but there making the effort.
To back up my claim of Internet Explorer not being the exciting here's a graph of Internet Explorer's usage data from 1996-2008: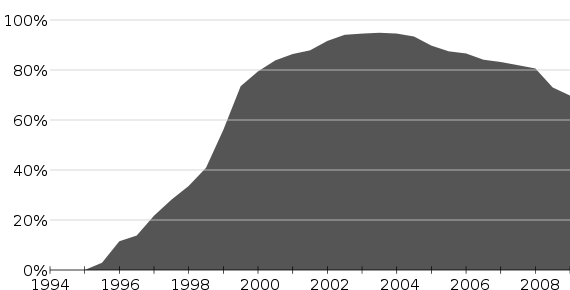 Maybe it's a bit much to look at Microsoft as a company and evaluate it based on it's browser and, but look at it this way, Internet Explorer has been around for ages. God I can even remember Internet Explorer 4 and 5 on versions of Windows such as 95 and 98. Memories…. But compared to browsers out today, do you think Internet Explorer is a exciting browser? If you said yes, then I'd love to hear your opinion, im not saying your wrong if you say yes, I just think compared to other browsers it isn't exciting anymore.
I think Internet Explorer has a whole just isn't exciting anymore, and for years now website developers have constantly bashed it because of the way it displays code. At least Internet Explorer 8 does bring in more validity and W3 Compliance so it actually displays webpages the way every other browser displayed them in the first place. Took team IE a while but they got there in the end, so hats off.
But what do you think. Do you think Internet Explorer 8 should be supporting more CSS3 or do you think Internet Explorer is getting left behind in general. Whatever you think why not comment below. Because Im very interested in what others have to say about the whole IE situation!