Saturday December 7th 2013
at 11:02 AM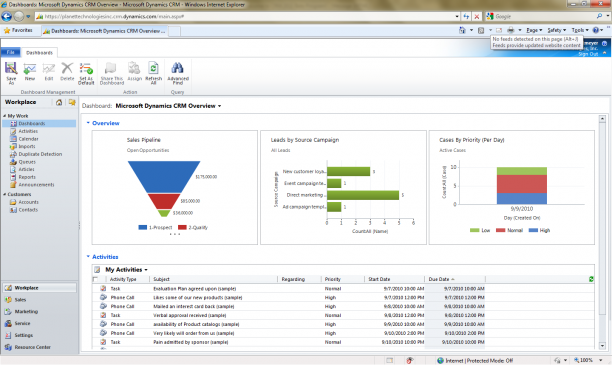 Don't worry your not the only one. Its a known problem that only Microsoft has recently officially acknowledged via their Knowledge Base. Unfortunately at this time of writing Internet Explorer 11 doesn't play nice with CRM 2011. You will find that you just get a 404 error after logging into your CRM system. No one knows if Microsoft is planning to fix this, I REALLY hope they do, as yet again THEIR own browser is breaking THEIR own products (remember the whole Outlook Web Access thing as well). Well fortunately there are a couple of workarounds to this problem, so if you happen to live on the bleeding edge, fear not!
Note: Internet Explorer 11 is now supported on CRM 2011 with rollup 17 installed, it also improves compatibility with Internet Explorer when accessing CRM 2011 via the Outlook client in Office 2013.
Downgrade Internet Explorer 11 back to 10
Downgrade? Internet Explorer? IMPOSSIBLE. For the most part, yes it is, but if you happened to have Internet Explorer 10 installed previously, you can actually remove the IE11 update and revert back to 10, sorcery right? Here's how:
Open Control Panel
Select Programs and Features
View installed updates
Find the Internet Explorer 11 update
Right click and select Uninstall
After this you will be required to reboot your machine. Doing so will give you IE10 again, this "downgrade" can however cause IE to not work properly, so I recommend if you encounter any problems do a full reset on Internet Explorer. Nuke its settings, addons etc.
For those of you who have installed Windows 8.1 already, sorry you can't do this one. You don't have the option to remove the update. Try another workaround below.
Setup a Windows guest virtual machine
Another alternative if you want to maintain your bleeding edge status is to setup a virtual machine with either Windows 7 (or maybe Windows XP). I personally would say Windows 7 as support for XP is going in April 2014 (as if you didn't know this already), but really you could use Windows XP, Windows Vista or Windows 7. You could also virtualise Windows 8 and cause inception, but that would be silly right? Your already running Windows 8 aren't you?
Internet Explorer 10 (Windows 7 guest virtual machine) and Internet Explorer 11 (Windows 8.1, the host) appearing as if they were in the same Operating System.
In the end I decided to setup a Windows 7 32 bit virtual machine in Virtualbox. This might seem a bit clunky just to be able to use another version of IE, but with Virtualbox and its seamless mode (see image above), it makes seem as though it still under one Operating System so its a fairly workable solution if you have the resources and hardware to run it. If your not a Virtualbox fan, you can also use VMWare and its unity feature which has the same effect.
Pro-tip: Keep that "Install updates automatically check box off on IE10, in case any automatic Windows Update action screws you over.
Use the CRM 2011 Outlook Client
You don't actually have to access CRM 2011 via Internet Explorer, there is also the Outlook Client option, which your organisation should provide to you. Its compatible with Outlook 2003 right up 2013 and supports Windows XP to Windows 8/8.1. If you haven't heard of it you can find it here:
Your network/CRM administrator should be able to help you set this up, if it isn't installed already.
In most cases, you'll be able to access most parts of your CRM system directly in Outlook, making browsing via Internet Explorer, not required. HOWEVER, there will some situations where the Outlook connector might not be able to do some things or see certain menus, which in that case you now are required to access via Internet Explorer.
Use Internet Explorer 11 but with Emulation Tools
Internet Explorer 11 and its Developer Tools. The emulation tools have been greatly improved, you can even emulate Windows Phone and Xbox One (but who's buying that console anyway)
In the beginning this appeared to be a nice solution, but it appears over time this has stopped working properly (or not as well as it did), but I'll explain the workaround anyway. If your a web developer you'll know all about Internet Explorer and its Developer Tools, since about IE9 they've actually been rather useful and to the Internet Explorer team's credit, the IE11 dev tools are a very nice upgrade. One of the main features are the emulation tools to make IE11 render and appear as IE10, the magic version which Microsoft supports with CRM 2011. The general steps are:
Open Internet Explorer 11
Press F12 to open Developer Tools
Set the Document mode to Internet Explorer 10
Browse to your CRM 2011 URL
Set the UA String to Internet Explorer 10
Login to CRM 2011
Make sure the URL you access is /main.aspx, rather than the root domain
This should allow you to view your CRM 2011 system in Internet Explorer 11. However it is rather glitchy, a lot of stuff doesn't work and generally its not fun. It removes the need to use a virtual machine or downgrade, but how useful its functionality is, questionable. You can also try compatibility settings, but this doesn't appear to work anymore.
Will Microsoft fix Internet Explorer 11 to work with CRM 2011?
Hopefully, depends on the amount of customers using Internet Explorer 11 and CRM 2011. In my organisation, the norm is still Windows XP and Internet Explorer 8, others might be Windows 7 and Internet Explorer 9/10. Windows 8 in organisations will be much lower at this point. I'm hoping that Microsoft either address the issue in a CRM 2011 roll-up update, or IE 11 update, either way it would be nice to have it fixed, so I don't have to use workarounds, because lets be honest workflow wise, its not effective, and essentially I'm getting punished for being part of the BYOD model.
As to which option should you take if your in the same situation? If possible, drop back to IE 10 and avoid any complex sorcery to get this to work. If your on Windows 8.1 (like me), virtual machine is certainly workable. Emulation tricks are really sketchy, and compatibility settings don't appear to work anymore for CRM 2011.